Rented
Uptown Place Apartments
1.28 miles from CSU Chico
Pay Rent
Tenant Login
Request Maintenance
Rates:
1 Bed 1 Bath: Rent: $1,025 Deposit: $1,500

Lease Details
Annual Lease
Property Available 08-01-2018
Property Amenities
Near Bus Lines
Online rent payment options
Paid Garbage Service
Paid Professional Landscaping
Parking
Off Street Parking
Street Parking
Unit Amenities
Balcony/Patio
Bathtub/Soaking Tub
Cable Access
Dishwasher
Microwave
Refrigerator
Stove/Oven
Ceiling Fan(s)
Central HVAC
Washer/Dryer in Unit
Apartment
Lease Assumption Opportunity - Rare 1 bedroom, 1 bath apartment!! Newer high end units!! Granite counters, private balconies, instant hot water, wood look flooring and much more. Just a short walk to downtown and campus.
Similar Properties
Apartment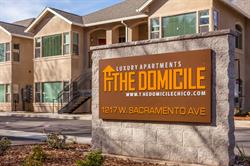 The Domicile Chico
Learn More
1 Bedroom / 1 Bath : $995/month
2 Bedroom / 2 Bath : $1,195/month
Luxury 2 bedroom 2 bath apartment available! Granite counters, in-unit laundry, stainless steel and much more. Super close to Chico State and downtown Chico. Enjoy the spacious layout and luxury feel of these apartments. Lock in your rate today before they are full.
Available 08-17-2018
Multiplex (3-4 units)
1 Bedroom / 1 Bath : $965/month
Available for move in July 20th. 1 bedroom, 1 bath close to Rosedale Elementary and less then a mile away from Chico State. High ceilings, washer and dryer in unit. Huge bedroom and bathroom.